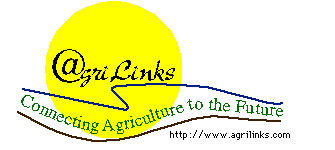 Mission/Statement of Purpose
Agriculture is a very large part of our economy. With out the enterprise of agriculture, the rest of the world would not survive. As with most business ventures, more information is needed more quickly to make the decisions that make or break an organization. Agriculture is just starting to use the information age and the Internet. As our final project for the MBA capstone course at Bellevue University we plan to develop a business plan that will connect agriculture to the future.
Why are we here?
In an effort to provide agricultural innovators with a resource tool that will make business operations and connections smoother and quicker, we are providing an on-line network of agriculturally-related information and links.
Who do we serve?
We serve men and women who depend on agriculture for their livelihood. The men and women of the present and the future who are willing to jump on the technology bandwagon, spend some time on-line and be innovators in the agricultural world, are our audience. We serve farmers, ranchers, producers and consumers, bankers, investors, insurance companies and real estate agents, veterinarians, vaccine distributors, market watchers and feed dealers, high school FFAers, ag-college students, and retired veterans.
In other words, we are here to serve you!
If you see something of interest on our pages and if we provide you with instant information and some insight into your agricultural interests, we have succeeded.
What will you find here on our pages?
We plan to eventually provide links to ten basic areas:
How can you become a part of @griLinks?
You can contact us via e-mail at:
 	kalkowsc@agrilinks.com
You can write us via snail mail at:
	AgriLinks
	4627 N. 139th Ave
	Omaha, NE 68164
You can telephone or fax us at:
1-402-934-1646

You can fill out this SURVEY and it will be forwarded to us.
Who are we?
The agriculturally-inspired, striving to be one-step ahead in the technology race, members of the CMK Creation team.
We don't profess to know all the answers, but we will strive to find the resources to assist you in your agricultural quest.
Thanks for browsing our pages.
---
Return to @griLinks Home Page.